Are you a fan of Downton Abbey? If so, you must have been heartbroken when Sybil, Mary and Edith's beloved sister, left the show after season three. But have you ever wondered why the character was killed off? Was it a creative decision or did the actress who played her, Jessica Brown Findlay, want to leave? In this blog post, we'll delve into the reasons behind Sybil's departure and explore other characters who left the show. So, let's unravel the mysteries of Downton Abbey.
The reasons behind Sybil's departure from Downton Abbey.
Jessica Brown Findlay played the role of Lady Sybil Crawley, the youngest daughter of the Crawley family in the popular British period drama series, Downton Abbey. Her character was known for being kind-hearted and compassionate towards others. However, in season three, the audience was shocked when Lady Sybil died shortly after giving birth. This left many viewers wondering about the reason behind her departure from the show.
According to Jessica Brown Findlay, she did not want to become too comfortable in her role and decided not to renew her contract with the show after her initial three-year run. In an interview with Radio Times, she said: "I didn't want to fall into my comfort zone too much. My contract was ending, and I was unsure about signing away another year."
It appears that Jessica's decision to leave the show was mainly driven by her desire to explore other opportunities and avoid being typecast as Lady Sybil. Her departure from the show was a significant loss for the Downton Abbey cast and fans alike, as her character was well-loved and played a crucial role in the series.
In conclusion, Jessica Brown Findlay's decision to leave Downton Abbey was a personal one, driven by her desire to pursue other acting opportunities and avoid becoming too comfortable in her role. Despite her departure, Lady Sybil remains a beloved character in the hearts of many fans.
🍿 Must Read What happens to Lady Rose in Downton Abbey?
The Reason Behind the Departure of Sybil from Downton Abbey
Sybil Crawley's death in Downton Abbey left the audience in shock and heartbreak. She died of eclampsia, a pregnancy complication characterized by seizures, which was not well understood in the early 1900s. The scene of her death, surrounded by her family members, was heart-wrenching and left a lasting impact on viewers.
Sybil's character had grown immensely over the course of the show, from a rebellious and independent woman to a devoted wife and mother. Her death came as a surprise to many, especially since she had just given birth to her daughter. The loss of such a beloved character was a difficult moment for the show's fans and the cast alike.
Despite the emotional toll of Sybil's death, it was a pivotal moment in the show's storyline. Her passing had a significant impact on other characters, particularly on her husband Tom and her sister Mary. It also highlighted the lack of medical knowledge and resources available to women during that time period.
Overall, Sybil's death was a tragic but necessary plot point in the show's narrative. It showcased the harsh realities of life in the early 1900s and the devastating consequences of a medical condition that was not well understood at the time.
The Possible Departure of Sybil's Actress from Downton Abbey
Lady Sybil Crawley was one of the most beloved characters on Downton Abbey, and her tragic death in childbirth left viewers in shock. However, many fans were left wondering why the actress who played her, Jessica Brown Findlay, decided to leave the show in the first place. The truth is that it was Findlay herself who made the decision to quit the series, and she was instrumental in creating the storyline that saw Sybil leave Downton Abbey.
While there is no way of knowing if Sybil would have eventually been written out of the show, it was Findlay who pushed for an exit storyline that would allow her to move on from Downton Abbey. In an interview with Radio Times, she explained that she felt it was time to explore new projects and challenges, saying, "I didn't want to fall into my comfort zone too much."
It is worth noting that leaving Downton Abbey was not an easy decision for Findlay. She had grown close to the cast and crew during her time on the show, and she admitted that saying goodbye was difficult. However, she ultimately felt that it was the right choice for her career and her growth as an actress.
In the end, the decision to write Sybil out of the show was a joint effort between Findlay and the Downton Abbey writers. While it was undoubtedly a sad moment for fans of the show, it allowed Findlay to stretch her wings and pursue new opportunities, and it paved the way for new characters and storylines to emerge.
The Departure of O'Brien from Downton Abbey: What Led to Her Exit?
The character of O'Brien, played by Siobhan Finneran, was a prominent figure in Downton Abbey. Her sudden departure from the show in season 3 left many fans wondering what could have led to her exit. According to the show's executive producer, Gareth Neame, the decision to leave was entirely Siobhan's. Neame explained that Siobhan's initial contract had come to an end, and she had decided not to renew it. While it was a surprise for the show's creators, they respected her decision and wished her well.
O'Brien was a complex character whose actions often drove the show's plot. Her relationship with Lady Grantham was particularly intriguing, and her departure left a significant gap in the show's dynamics. Fans had hoped to see more of O'Brien's storylines and were saddened to see her go. However, Neame's statement suggests that the door is open for Siobhan to return to Downton Abbey in the future. It remains to be seen if the show's creators will find a way to bring her back and if Siobhan would be willing to reprise her role.
>> Related – Why did they change the actress in Fate: The Winx Saga?
Dan Stevens' Departure From Downton Abbey: Was It Voluntary?
Dan Stevens, the actor who portrayed Matthew Crawley, one of the most beloved characters on Downton Abbey, left the show after season 3. Many fans were left wondering why he left, and if it was due to any behind-the-scenes drama. According to Stevens himself, his departure from the show was a result of having "creative itches left unscratched."
Stevens explained that he had initially signed on to Downton Abbey up to season 3, and when his contract was up, he felt an urge to explore different roles and genres. He expressed a desire to work in film, theater and explore other creative opportunities. Stevens also mentioned that he wanted to take a break from the intense filming schedule of Downton Abbey, which required him to spend months away from his family.
Despite his departure, Stevens has spoken fondly of his time on the show, and has even made appearances in later seasons. Fans have also continued to express their love for his character, Matthew Crawley, and the impact he had on the show. While it's always difficult to say goodbye to a beloved character, it's clear that Stevens' departure was motivated by a desire to continue growing as an actor and exploring new opportunities.
Lady Sybil's Fate: Is There a Chance She Could Have Lived?
Lady Sybil's death in Downton Abbey was a heart-wrenching moment for viewers. The question that many fans have asked is whether Lady Sybil could have been saved. Unfortunately, the answer is no. Lady Sybil died from eclampsia, a condition that was poorly understood in the early 20th century. Eclampsia is a serious complication of pregnancy that affects roughly 1 in 200 women. It is characterized by seizures, high blood pressure, and swelling.
In the show, Lady Sybil's death was preceded by a seizure, which was a clear indication that she was suffering from eclampsia. At this point, there was very little that could have been done to save her. The only treatment for eclampsia in the early 1900s was to induce labor and deliver the baby. However, this was often too little too late. Even with modern medical technology, eclampsia is still a serious condition that can be difficult to treat.
It is important to note that Lady Sybil's death was not caused by any negligence or lack of medical knowledge on the part of the Downton Abbey characters. In fact, Dr. Clarkson, the family doctor, did everything he could to save her. The sad truth is that eclampsia was a deadly condition in the early 20th century and there was little that could be done to prevent it.
In conclusion, while it is heartbreaking to think about Lady Sybil's death, it is important to understand that there was little that could have been done to save her. Eclampsia was a poorly understood condition at the time and even with modern medical technology, it can still be difficult to treat. The Downton Abbey writers did an excellent job of portraying this tragic event in a realistic and respectful manner.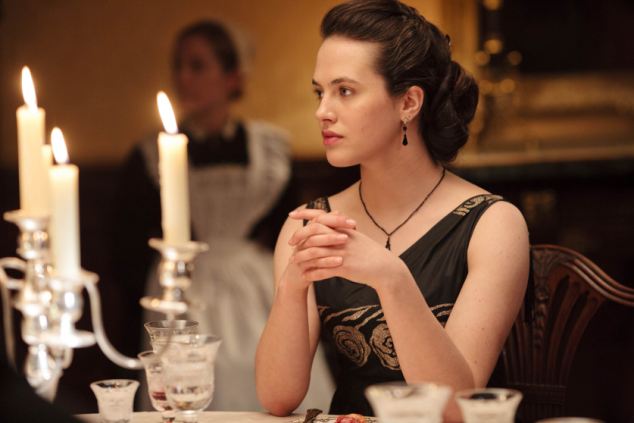 Unraveling the Mystery of Lady Sybil's Baby's Upbringing
Lady Sybil's death was a shock to the Crawley family, and it left a void in their lives. However, little Sybbie, Sybil's baby girl, still needed someone to take care of her. After Sybil passed away, Tom Branson, her husband, had to take on the role of a single father. He had no experience in taking care of a child, but he quickly learned how to be a caring and attentive father to his daughter.
Although Tom had to take on the role of a father, like most aristocratic children of that time, Sybbie was mainly raised by nannies. However, Tom was a hands-on father and was always there for his daughter, whenever he could be. He adored his daughter and put her first, no matter what else was going on in his life.
Tom's love for his daughter was evident in the show, and it was clear that he was never going to let Sybbie feel unloved or uncared for. He made sure that she was always taken care of, and he was always there to provide for her needs. Even though Lady Sybil was no longer there, Sybbie had a loving father who was ready to step up and give her the best life possible.
The Paternity of Thomas Lord Grantham: Speculation and Evidence.
The question of Thomas being Lord Grantham's son has been a topic of discussion among Downton Abbey viewers. However, in the series, only a few characters know the truth. One of them is Lady Grantham's maid, Miss O'Brien, who is Thomas's biological aunt. O'Brien was the only person who knew the secret of Thomas's parentage, and she used it to manipulate him and gain power in the house.
According to the storyline, Thomas is the illegitimate son of Lord Grantham and O'Brien. This makes him the rightful heir to the estate, but he is not recognized as such. It is unclear whether Lord Grantham is aware of Thomas's true parentage, but it is evident that the rest of the family is not.
The revelation of Thomas's parentage could have significant consequences for the Grantham family and the estate. It could change the power dynamics in the house and create tension between the family members. However, as the series ended without any resolution to this storyline, it is left to the viewer's imagination to speculate on the potential outcomes.
In conclusion, the truth about Thomas's parentage is known only to a few characters in the series, and it remains a secret. The revelation of this truth could have significant implications for the Grantham family and the estate, but it is left unresolved in the series.
More to discover
it was ultimately Jessica Brown Findlay's decision to leave Downton Abbey after her contract ended. Her character, Lady Sybil, was tragically killed off in season three after giving birth. Despite rumors that the actress wanted to leave the show, she stated that she wanted to challenge herself and not become too comfortable in her role. As for the departure of other characters, such as O'Brien and Dan Stevens' Matthew Crawley, it was due to the actors' personal decisions. While some fans may have hoped for a different outcome for Lady Sybil, it's important to remember that it was a necessary plot development. And though she may be gone, her legacy lives on through her daughter, whose upbringing is entrusted to a loving family member.