Are you ready to get drenched in GWAR's colorful fluids? The legendary rock band is known for their outrageous live shows, where they spray the audience with fake blood and other bodily fluids. But have you ever wondered what exactly they're spraying? And how much of it do they use? Don't worry, we've got you covered. In this blog post, we'll answer all your burning questions about GWAR's signature liquid assault. So put on your best battle gear and let's dive in!
The Mysterious Substance GWAR is Famous for Spraying on their Audience
GWAR, the heavy metal band known for their outrageous live performances, has gained notoriety for their unique way of engaging with their audience. The band members, dressed in elaborate costumes, wield a variety of weapons and props which they use to spray the crowd with fluids during their shows. These fluids are meant to resemble blood, vomit, and other bodily fluids, and are a signature element of their performance.
However, it may come as a surprise to many fans that the fluids sprayed by GWAR are not actually made up of real bodily fluids. Rather, they are concocted using a mixture of water and powdered food coloring, which is then thickened with a seaweed extract called carrageenan. This mixture creates a viscous, gooey substance that closely resembles the consistency of real bodily fluids.
Despite the fact that the liquids sprayed by GWAR are not real, fans still eagerly await the moment when they are drenched in the band's signature fluids. It is a testament to the band's ability to create a truly immersive and unforgettable live experience.
In conclusion, while GWAR's use of fluids in their live shows may be shocking to some, it is a key element of their performance and has contributed to their enduring popularity among fans. The band's ability to create a sense of spectacle and engagement with their audience is a testament to their creativity and showmanship.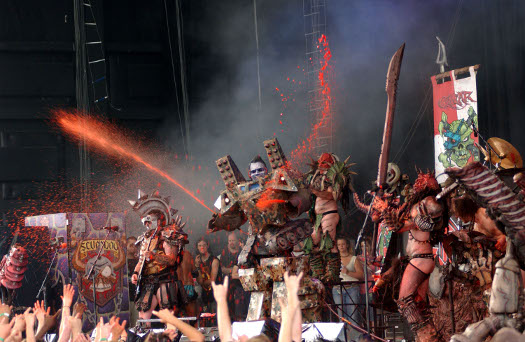 🍿 Must Read What is the Ghorman massacre in Star Wars?
Is GWAR's signature audience spray still part of their performances?
GWAR, the legendary heavy metal band known for their outrageous costumes, gruesome stage antics, and spraying fake blood on their fans, still continues to spray on the audience during their live performances. Despite the predictability of the latex body being cut up and blood being sprayed all over the crowd, fans continue to enjoy the unique experience that comes with attending a GWAR concert.
One of the reasons for GWAR's enduring popularity is their ability to consistently deliver an over-the-top and entertaining show. The band members clearly enjoy themselves on stage night after night, and their enthusiasm is contagious. Fans are treated to a spectacle that is a mix of music, theater, and performance art, all with a healthy dose of humor and gore.
Attending a GWAR concert is not for the faint of heart, but for those who are up for the challenge, it is an experience that will be unforgettable. The band's dedication to their craft and their fans is evident in every performance, and their commitment to delivering a unique and entertaining show has kept them relevant for over three decades. Whether you are a longtime fan or a newcomer, a GWAR concert is an experience that should not be missed.
Unveiling the Quantity of Artificial Blood in GWAR Performances
GWAR is known for their outrageous and over-the-top performances, which often involve a significant amount of fake blood and other bodily fluids. In fact, the band goes through a whopping 100 gallons of fake blood and pus at each and every one of their shows. This is no small feat, and it takes a lot of planning and preparation to ensure that everything goes smoothly.
The first song of the night is typically the most dramatic, with a blast from the smoke machine and an onstage decapitation setting the stage for what's to come. From there, the band doesn't hold back, drenching themselves and the audience in gallons upon gallons of fake blood. This is all part of the show, of course, and fans come prepared to get messy.
It's worth noting that this isn't just any old fake blood. GWAR uses a special recipe that is designed to be thick and viscous, so that it clings to the skin and clothing of anyone unlucky enough to get doused. This adds an extra layer of realism to the performance, making it feel more like a horror movie come to life than a typical rock concert.
Overall, the amount of fake blood that GWAR uses is truly staggering. It's a testament to the band's commitment to their craft and their willingness to go the extra mile to give their fans an unforgettable experience. Whether you're a die-hard fan or just someone who appreciates a good spectacle, a GWAR concert is an experience unlike any other.
The Bloody Performers: Uncovering the Rock Band That Sprays Blood
Gwar is the rock band that is notorious for spraying fake blood on their audience during their stage shows. This act has become an iconic part of their live performances and has helped to establish their unique identity in the music industry. The band members dress up in elaborate costumes and perform on stage as characters from outer space, creating an otherworldly atmosphere that immerses the audience in their bizarre universe. The use of fake blood during their shows is just one aspect of their shock rock approach that has made them a cult favorite among metal fans. Despite the controversy surrounding their performances, Gwar remains one of the most innovative and influential bands in the genre, inspiring countless imitators and earning a devoted following of fans who appreciate their dark humor and theatrical flair.
>> Related – Is The Beatles: Get Back Rated TV 14?
Deciding on Your Attire for a GWAR Performance
GWAR's live show is an unforgettable experience that will leave you drenched in fake blood. So, what should you wear to prepare for this epic event? The answer is simple – wear a plain white t-shirt! This pro tip will ensure that you receive a free souvenir by the end of the show – your white t-shirt covered in fake blood.
Getting covered in fake blood is a rite of passage for any GWAR fan, and it's an experience that cannot be fully described in words. The feeling of being drenched in blood while headbanging to their heavy metal music is truly indescribable.
So, leave your fancy clothes at home and come dressed in a simple white t-shirt to fully enjoy the GWAR experience. Don't worry about ruining your clothes or looking out of place, as everyone in the crowd will be covered in fake blood.
In short, wearing a plain white t-shirt to a GWAR show is not only a smart choice, but it's also a tradition that adds to the overall experience. So, come prepared to get messy and have an unforgettable time at a GWAR concert.
Concert Safety: Exploring the Legality of Carrying Pepper Spray
When attending a concert or any live event, it's important to know what items are allowed and what items are prohibited. The safety of the performers and audience is always a top priority for event organizers, which is why certain items such as guns, knives, weapons, pepper spray, and projectiles are strictly prohibited. These rules are put in place to prevent harm and ensure a safe and enjoyable experience for everyone.
While it may be tempting to bring pepper spray for personal protection, it is important to remember that it is not allowed in most concert venues. Pepper spray is considered a weapon and can cause harm to others if not used properly. In addition, sneaking pepper spray into a concert can result in serious consequences, including being denied entry, kicked out of the venue, or even arrested.
It's always best to check the event's website or contact the venue directly to find out what items are allowed and what items are prohibited. If you're unsure about a particular item, it's better to leave it at home and avoid any potential issues. Remember, the safety of everyone involved is the top priority, and it's important to respect the rules and regulations put in place.

The Duration of GWAR Concerts: What to Expect.
GWAR concerts are known for being epic and unforgettable experiences. Fans who attend these concerts can expect to be swept off their feet with the band's incredible performances, which typically last around 1.5 hours. During this time, the band members will bring to life an intense and immersive show that includes various props, costumes, and fake blood.
While the length of the concert may seem short for some people, it's important to remember that GWAR's shows are incredibly intense and require a lot of energy from both the performers and the audience. Fans attending a GWAR concert should be prepared to be on their feet, jumping, and headbanging for the entirety of the performance.
It's worth noting that the length of GWAR concerts can vary slightly depending on the venue, the location, and the tour. However, regardless of the duration, fans can always expect to leave the concert feeling energized, entertained, and covered in fake blood. So, if you're a GWAR fan or someone who loves to experience high-energy performances, be sure to catch one of their shows for an unforgettable experience.
Breaking Stereotypes: Debunking the Myth of Pepper Spray as a Female-Only Tool
Pepper spray is a commonly used self-defense tool that can be used by anyone, regardless of their gender. In fact, it is completely legal for anyone to carry pepper spray for personal safety purposes without any special state or federal permits. However, it is important to note that the size and weight of the defense spray products are regulated by the California state laws.
According to California laws, pepper spray canisters cannot exceed 2.5 ounces in size or 2.5 ounces in weight. It is also illegal to sell or distribute pepper spray to anyone under the age of 18. Additionally, it is always recommended to check with the local laws of the area you plan to carry pepper spray in, as the laws may vary from state to state.
While pepper spray can be a useful tool for self-defense, it is important to use it responsibly and only in situations where it is necessary. It should not be used as a weapon or for any other purpose other than self-defense. In addition, it is important to remember that pepper spray can have serious effects on people with respiratory problems, so it should be used with caution in crowded areas such as concerts or events.
In conclusion, it is perfectly okay for a guy to carry pepper spray for personal safety purposes. However, it is important to follow the legal guidelines and use it responsibly. If you plan to attend a concert or event with pepper spray, make sure to check the venue's policies beforehand and use it only when necessary for your own safety.
More to discover
attending a GWAR concert is not for the faint of heart. The band's use of fake blood and other fluids is a signature part of their live shows and adds to the overall experience. While some may wonder about the safety and practicality of attending such a show, it is important to note that the fluids used by GWAR are typically harmless and made from food-grade ingredients. So, if you are brave enough to attend a GWAR concert, be sure to wear clothes that you don't mind getting dirty and be prepared for an unforgettable experience.