Are you a die-hard Harry Potter fan? Have you ever wondered who the most unpopular and underrated characters in the franchise are? Well, Umbridge's evil tactics have certainly made her the most hated character amongst fans. But what about the other characters? Was Voldemort really the root cause of all the chaos? Was Albus Dumbledore just using Harry Potter for his own gains? And what about the lesser-known characters like the Dursleys and Cornelius Fudge? In this blog post, we'll dive deep into the world of Harry Potter and explore the most unpopular, underrated, and least known characters, as well as the most loved and J.K. Rowling's favorite character. So, grab your wand and let's get started!
The Least Favorite Character in Harry Potter Series: Who Could It Be?
When it comes to the most unpopular Harry Potter character, there are a few contenders. However, it is hard to deny that Dolores Umbridge takes the top spot. Her evil tactics and cruel treatment of students made her the most hated character in the franchise. Umbridge's strict adherence to the Ministry of Magic's policies and her blatant disregard for the well-being of Hogwarts students made her a truly villainous character.
Of course, it's important to note that Voldemort was the root cause of much of the pain and suffering in the series. However, he was also a clear villain from the beginning. Umbridge, on the other hand, was a more insidious and unexpected antagonist.
Another character who may not be as unpopular as Umbridge but still deserves a spot on this list is Albus Dumbledore. While he ultimately had good intentions, he used Harry Potter as a pawn in his fight against Voldemort. Some fans argue that Dumbledore's manipulative behavior made him less likable than other characters.
Moving on to some supporting characters, the Dursleys are another group that many fans dislike. Their abusive treatment of their orphaned relative, Harry Potter, for no apparent reason was difficult to watch. It's hard to imagine anyone rooting for them in the series.
Lastly, there's Cornelius Fudge, the Minister for Magic who ignored the signs of Voldemort's return. His lack of action and denial of the truth made him a frustrating character to watch. It's easy to see why fans were disappointed in his leadership during such a crucial time in the wizarding world.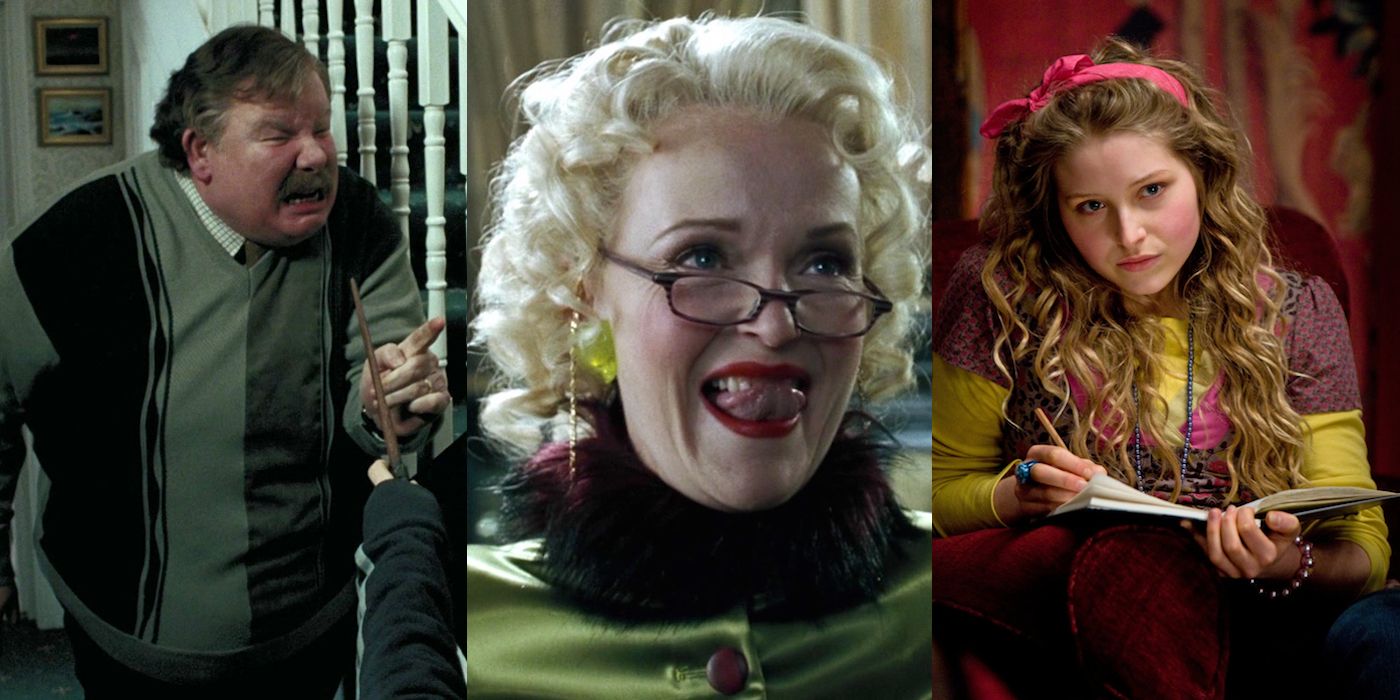 🍿 Must Read What are the top 10 main characters in Harry Potter?
Unsung Heroes in Harry Potter Universe: The Overlooked Characters that Deserve More Credit
Harry Potter is one of the most popular franchises in the world, and while there are some characters that have become household names, there are others that have been overlooked and underrated. In this section, we will discuss the top 10 most underrated Harry Potter characters who deserve more recognition.
At number 8, we have the Weasley Twins. These two mischievous brothers brought humor and excitement to the series, yet they often go unnoticed. Their pranks and jokes added a light-hearted touch to the otherwise intense storyline.
Coming in at number 7 is Kingsley Shacklebolt. This Auror and member of the Order of Phoenix played a crucial role in the series, yet many fans tend to forget about him. His heroic actions during the Battle of Hogwarts should not be overlooked.
At number 6 is Fleur Delacour, a skilled witch and part-Veela who competed in the Triwizard Tournament. Despite being portrayed as a somewhat superficial and snobbish character at first, she proved herself to be a loyal friend and a fierce fighter.
Remus Lupin, the werewolf and former Hogwarts professor, takes the fifth spot on this list. He was a complex character, struggling with his identity and the stigma surrounding werewolves. But he also showed great compassion and bravery, especially when it came to protecting Harry.
Molly Weasley, the mother of Ron and Ginny, is at number 4. She was not only a loving and supportive mother but also a fierce fighter and member of the Order of Phoenix. Her battle cry "Not my daughter, you bitch!" during the Battle of Hogwarts is one of the most memorable moments in the series.
Narcissa Malfoy, the mother of Draco, takes the third spot on this list. While she was not a likable character, her loyalty to her family and her bravery in lying to Voldemort saved Harry's life.
At number 2, we have Aberforth Dumbledore. The lesser-known brother of Albus Dumbledore played a significant role in the series, providing shelter and support for the Order of Phoenix. He was also the one who provided Harry with the important information about his family.
Finally, the most underrated character in the Harry Potter series is Hedwig, Harry's loyal and intelligent owl. She was more than just a pet; she was a friend and companion to Harry throughout his journey. Her death was a tragic and emotional moment in the series.
Overall, these characters deserve more recognition and appreciation for their contributions to the Harry Potter series. They may not have been the main characters, but they played important roles in shaping the story and the characters we all know and love.
The Most Obscure Character in the Harry Potter Universe
Adrian Pucey might be one of the most easily overlooked characters in the Harry Potter series. Despite his appearances in several books and movies, he is often forgotten when discussing the vast array of characters in the Wizarding World. Pucey was a Chaser for the Slytherin quidditch team, a group that is often portrayed as underhanded and unsportsmanlike. However, unlike many of his teammates, Pucey is not depicted as a cheater on the field.
Perhaps one reason for Pucey's obscurity is that he is not a central character, nor does he have a significant role in the overarching plot. However, his presence in multiple books and movies, as well as The Chamber of Secrets video game, suggests that he was intended to be more than just a background character. It is worth noting that Pucey's name was included in the Top 200 Harry Potter character list, indicating that he is not entirely forgotten by fans of the series.
While Pucey may not have been a fan-favorite or a standout character, his inclusion in the series adds depth and complexity to the Wizarding World. His portrayal as a Slytherin who does not resort to cheating or underhanded tactics adds nuance to the depiction of the house and its members. In a series filled with memorable characters, it is easy to overlook those who do not have a significant impact on the plot. However, Pucey's presence serves as a reminder that even minor characters can contribute to the richness of a story.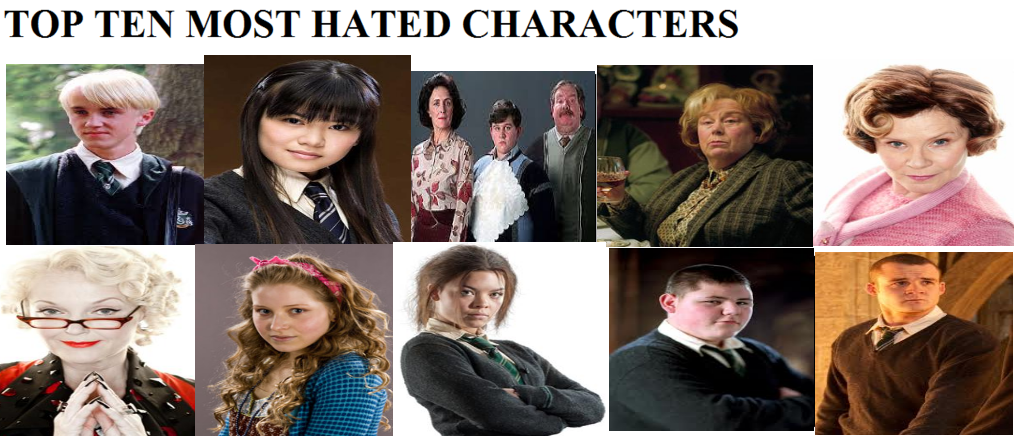 Harry Potter Character Popularity: Who Reigns as the Fans' Favorite?
When it comes to the most liked characters in the Harry Potter movies, there are many to choose from. However, some characters have stood out more than others and have captured the hearts of fans around the world. In this section, we will be ranking the top 10 most likable characters in the movies.
At number 8, we have Neville Longbottom. Neville started off as a clumsy and forgetful character, but he quickly evolved into a brave and loyal friend to Harry. Fans loved seeing his character development and his determination to fight against evil.
Coming in at number 7 are Fred & George Weasley. The Weasley twins brought humor and mischief to the movies, and fans couldn't help but love their antics. Their pranks and jokes added a lightheartedness to the films, and their charisma made them a fan favorite.
Molly Weasley takes the number 6 spot, and for good reason. She was the ultimate mother figure, and her fierce protection over her family and friends was admirable. Her famous line, "Not my daughter, you bitch!" when she faced off against Bellatrix Lestrange, showed just how much she cared for her loved ones.
At number 5, we have Remus Lupin. He was a kind and intelligent character who always looked out for Harry and his friends. Fans appreciated his wisdom and his willingness to help others, even if it meant putting himself in danger.
Harry Potter himself takes the number 4 spot. As the main protagonist of the series, fans couldn't help but root for Harry throughout his journey. His bravery, loyalty, and determination to defeat Voldemort made him a beloved character among fans.
In third place, we have Hermione Granger. She was known for her intelligence, her bravery, and her unwavering loyalty to her friends. Hermione was a role model for many, and her character inspired young girls around the world to be confident and stand up for what they believe in.
Luna Lovegood takes the number 2 spot. She was a unique and quirky character who didn't care about what others thought of her. Her positive outlook on life and her ability to see the good in others made her a fan favorite.
Finally, at number 1, we have Dobby the house elf. Dobby was a lovable and selfless character who always put others before himself. His innocence and his loyalty to Harry made him a beloved character, and his sacrifice in the Battle of Hogwarts was heart-wrenching for fans.
In conclusion, the most likable characters in the Harry Potter movies are those who showed bravery, loyalty, kindness, and humor. These characters have become iconic in the world of cinema and will continue to be beloved by fans for years to come.
>> Related – What is the saddest death in Harry Potter?
The Beloved Villain of Harry Potter: Who Stole our Hearts?
In the Wizarding World of Harry Potter, there are several villains that the readers and viewers love to hate. From the Dursleys, who treated Harry so poorly, to Draco Malfoy, the primary antagonist in the early books, there are plenty of characters who are easy to dislike. However, when it comes to the most loved villain in the series, there is no contest: Lord Voldemort takes the cake.
Although Voldemort is the main antagonist of the series, there is something undeniably fascinating about his character. From his mysterious origins to his obsession with immortality, Voldemort is a complex and intriguing villain who captures the imagination of readers and viewers alike. His utter disregard for human life and his willingness to do whatever it takes to achieve his goals make him a truly terrifying villain, but his cunning and intelligence also make him an impressive adversary.
Of course, Voldemort is not the only villain in the series. The Dursleys, with their petty cruelty and selfishness, are also easy to dislike. Draco Malfoy and his cronies, Crabbe and Goyle, serve as primary antagonists in the early books, and their bullying behavior towards Harry and his friends make them easy to hate. However, when compared to the sheer scale of Voldemort's evil, these characters pale in comparison.
Overall, while there are certainly plenty of villains to choose from in the Harry Potter series, there is no doubt that Lord Voldemort is the most loved of them all. With his complex motivations, terrifying power, and impressive intelligence, he is a villain who will go down in history as one of the greatest of all time.
Harry Potter Fans Reveal Their Favorite Female Character
Luna Lovegood is undoubtedly one of the most beloved characters in the Harry Potter series. Despite being an outcast in the wizarding community, Luna's unique and quirky personality won over the hearts of fans worldwide. Her carefree attitude and unapologetic weirdness were refreshing in a world where conformity was the norm.
What made Luna a fan favorite was her ability to be herself without worrying about what anyone thought of her. She was never afraid to speak her mind and stood up for what she believed in, even if it meant going against popular opinion. Her unwavering loyalty to her friends, especially Harry, made her a valuable addition to Dumbledore's Army.
Throughout the series, Luna provided a source of comfort and support for Harry during some of his darkest moments. She was a listening ear and a shoulder to lean on when he needed it most. Her open-mindedness and lack of judgment allowed Harry to confide in her without fear of being criticized or judged.
In conclusion, Luna Lovegood is the most liked girl in Harry Potter for her unique and authentic personality, her unwavering loyalty, and her ability to provide comfort and support to those around her. She is a reminder that it's okay to be different and that we should embrace our quirks and individuality.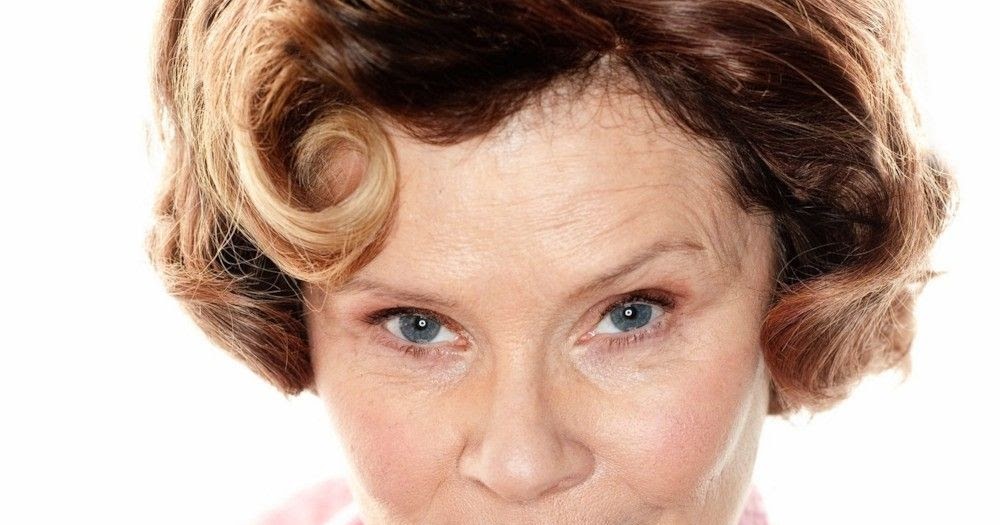 The Chosen One: Discovering J.K. Rowling's Favorite Character
J.K. Rowling, the renowned author of the Harry Potter series, caused a stir among fans when she killed off the protagonist, Harry Potter, in the final book of the series. However, it may come as a surprise that Harry is actually her favorite character. Despite Dumbledore being a popular choice among fans, Rowling has expressed her desire to have dinner with Harry himself. This revelation may have come as a shock to many, given the numerous characters in the series that have garnered immense popularity and admiration from readers worldwide.
Rowling's love for Harry Potter is evident through the seven books she has penned, where she intricately weaves his character arc and growth throughout the series. As the chosen one, Harry overcomes numerous obstacles and defeats the dark lord, Voldemort, ultimately sacrificing his own life in the process. His bravery, loyalty, and compassion make him a beloved character, both within the wizarding world and among readers.
While Dumbledore remains an enigmatic and complex character, it is Harry's journey that resonates the most with Rowling. His character embodies the themes of love, sacrifice, and perseverance that are prevalent throughout the series, making him a fitting choice for Rowling's favorite character. Despite being fictional, Harry's story has touched the hearts of millions and will continue to do so for generations to come.
The Ultimate Debate: Deciding the Best Character in the Harry Potter Series.
Albus Dumbledore, the headmaster of Hogwarts School of Witchcraft and Wizardry and the greatest wizard of all time, is undeniably the most powerful character in the Harry Potter series. His immense magical abilities and unparalleled wisdom made him the only wizard that Voldemort ever feared. In fact, Dumbledore was the only wizard who could have defeated Voldemort in a duel.
Dumbledore's power and influence are evident throughout the series. He was the one who discovered and destroyed Voldemort's horcruxes, making it possible for Harry Potter to ultimately defeat the dark lord. Dumbledore's intelligence and foresight were also key in defeating Voldemort, as his plans and guidance helped Harry and his friends overcome many obstacles.
Beyond his magical abilities, Dumbledore's character is also one of the most complex and fascinating in the series. He is portrayed as both a wise mentor and a flawed individual, with a dark past that he struggles to come to terms with. Despite his flaws, Dumbledore is a beacon of hope and a symbol of the power of love and perseverance.
It is no surprise that Albus Dumbledore is often regarded as J.K. Rowling's favorite character in the series. His legacy lives on long after his death, with his name and teachings continuing to inspire new generations of witches and wizards. In conclusion, Albus Dumbledore is not only the greatest character in the Harry Potter series but also one of the greatest characters in all of literature.
More to discover
the Harry Potter franchise has introduced us to a range of characters, some loved and some hated. However, the most unpopular character of all time has to be Dolores Umbridge, who used her position of power as a means of inflicting pain and suffering on others. On the other hand, the most loved character is undoubtedly Harry Potter himself, who won our hearts with his bravery and resilience. While Voldemort remains the most loved villain, Dumbledore's actions have been questioned, leaving him as an underrated character. But in the end, it's the magical world and its characters created by J.K. Rowling that continue to captivate us and make Harry Potter one of the greatest stories of all time.