Looking for a gory horror movie fix? Terrifier 2 may just be the movie for you. But is it actually scary? Don't expect any jumpscares or typical horror movie tropes. Instead, this film relies on extremely graphic and disturbing killing scenes that are not for the faint of heart. Is it the goriest movie ever? Maybe not, but some of the killing scenes may make your stomach churn. Curious if it's appropriate for younger viewers? Keep reading to find out.
Does Terrifier 2 live up to the horror hype?
While The Terrifier 2 is undeniably gory, it may not be the spine-chilling horror movie you're expecting. Despite its reputation for extreme violence, the film lacks traditional horror elements such as jumpscares. Instead, the movie relies heavily on its graphic, stomach-churning killing scenes to evoke a reaction from the audience. These scenes are undoubtedly disturbing and have the potential to make viewers feel uneasy. However, some of the killing scenes may come across as gratuitously violent and unnecessary.
It's worth noting that what one person finds scary is subjective. Some viewers may find The Terrifier 2 terrifying due to its gruesome nature, while others may not be affected by it at all. Ultimately, whether or not you find the movie scary will depend on your personal preferences and tolerance levels.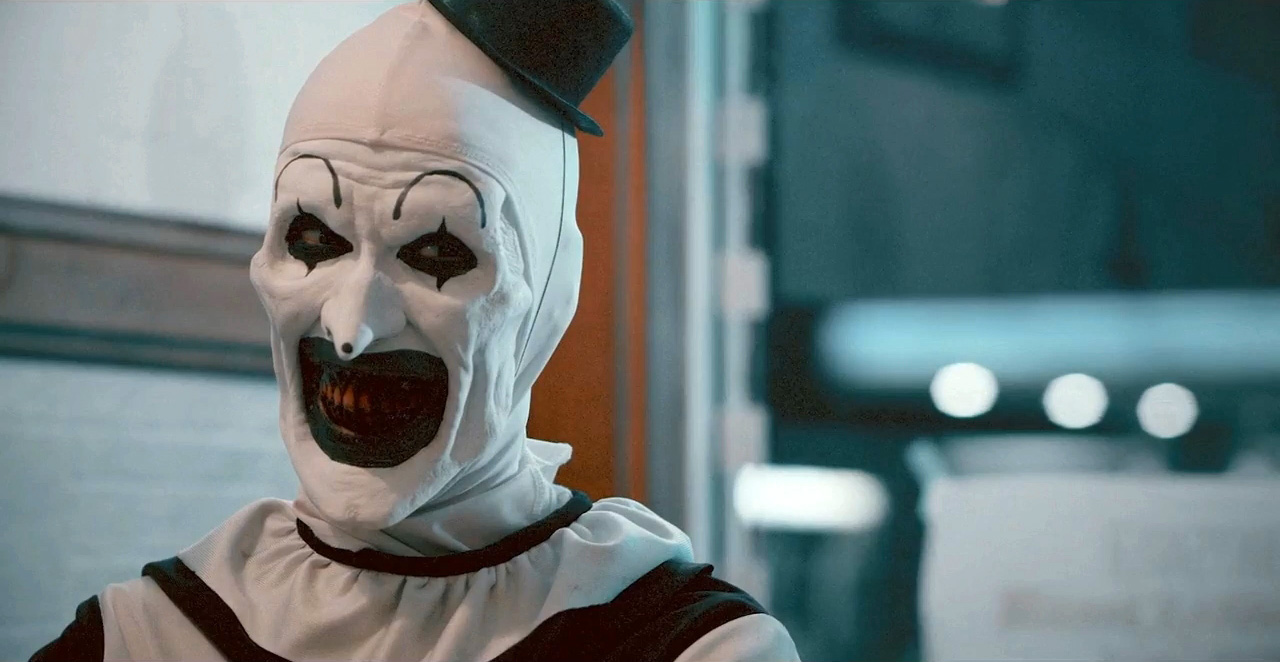 🍿 Must Read Is Terrifier 2 streaming anywhere?
Terrifier Review: Does It Live Up to the Hype as a Horror Film?
Terrifier: A Truly Terrifying Slasher Film
Terrifier is a horror movie that is sure to scare even the bravest of viewers. The film revolves around an evil killer clown who goes on a murderous rampage, leaving behind a trail of blood and gore. The movie is not for the faint-hearted, as it contains intense scenes of violence and gore.
Parents should be aware that Terrifier is not suitable for children or teenagers. The film contains disturbing scenes of violence against women, including one scene where a woman is hung naked upside down and sawed in half from her crotch to her head. The graphic nature of this scene is likely to cause distress to some viewers.
The film's use of violence and gore is not just for shock value but serves to heighten the sense of fear and terror that the movie creates. The killer clown's terrifying appearance and unpredictable behavior make for a truly scary movie experience.
In conclusion, it is safe to say that Terrifier is indeed an extremely scary movie that is not for everyone. It is a slasher film that pushes the boundaries of violence and gore, making it one of the most disturbing movies in recent times. If you are a fan of horror movies and are looking for a truly terrifying experience, then Terrifier is a must-watch.
Analyzing the Shock Factor of Terrifier 2
One of the most common questions that viewers have when it comes to Terrifier 2 is just how disturbing the movie really is. And the answer is: very. The violence depicted in this movie is extremely graphic and brutal, and it may be too much for some viewers to handle.
Throughout the movie, people are killed in a variety of ways that are sure to make viewers squirm in their seats. From being shot and stabbed to being scalped, cut, and beaten, the acts of violence in Terrifier 2 leave little to the imagination.
It's worth noting that the movie doesn't hold back when it comes to showing the consequences of these violent acts. Viewers will see plenty of blood and gore, with severed limbs and other gruesome injuries on full display.
All of this is to say that Terrifier 2 is not for the faint of heart. If you're someone who is easily upset by graphic depictions of violence, this may not be the movie for you. However, if you're a horror fan who loves nothing more than a good scare, Terrifier 2 is sure to deliver. Just be prepared to look away from the screen a few times if things get too intense.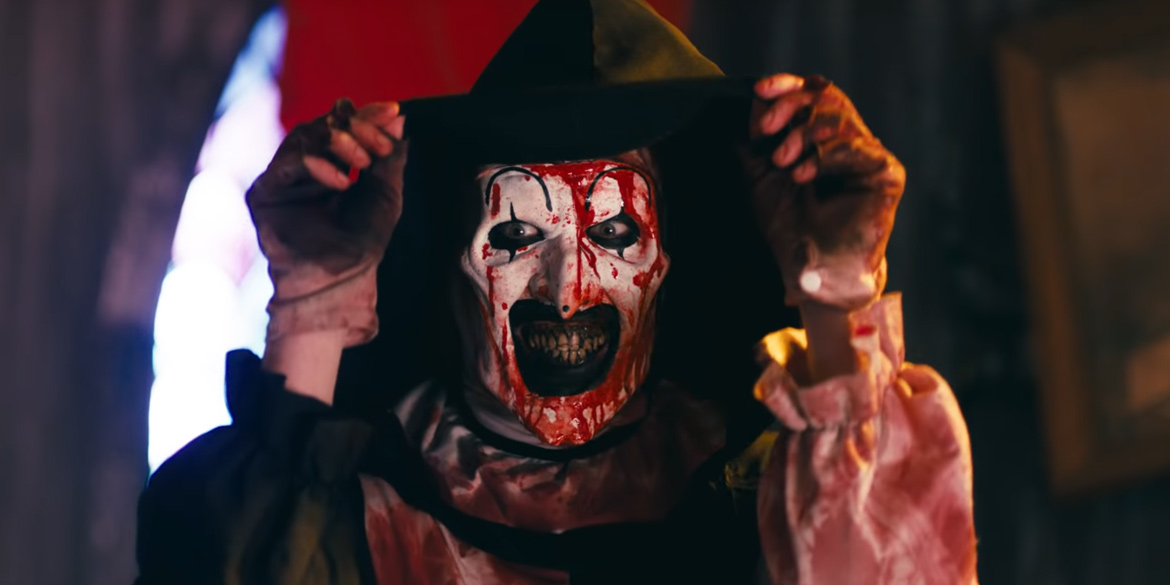 Terrifier 2: A Bloody Feast for Horror Fans
Terrifier 2, the recently released sequel to the first movie, has been making waves among horror movie fans for its level of gore. While the first Terrifier was already considered one of the goriest movies ever made, the second installment takes it up several notches. The movie is a blood-soaked extravaganza, with scenes that will make even the most seasoned horror fans squirm.
The movie features a wide range of gory scenes, from brutal stabbings to grotesque dismemberments. The practical effects used in the movie are top-notch and add to the realism of the gore. The filmmakers have clearly pulled out all the stops, delivering a movie that is not for the faint of heart.
One scene in particular, which involves a character being cut in half, has been making the rounds on social media for its shock value. The scene is so realistic that it has left some viewers feeling queasy. However, for fans of extreme horror, this is exactly what they were hoping for.
Overall, Terrifier 2 raises the bar for gore in horror movies. While it may not be everyone's cup of tea, for those who love extreme horror, this is a movie that should not be missed.
>> Related – Is A Quiet Place 1 or 2 scarier?
The Truth About Terrifier 2's Gore Factor: Is it Really That Graphic?
If you're a fan of horror movies, you've probably heard the rumors that Terrifier 2 is one of the goriest movies ever made. And let me tell you, those rumors are not exaggerating. From the opening scene to the end credits, Terrifier 2 is an absolute bloodbath.
Warning: Graphic descriptions – but no images – follow, so don't read on if you're squeamish.
This movie is not for the faint of heart. The level of gore and violence is off the charts, with scenes that will make even the most hardened horror fan squirm in their seat. From severed limbs to decapitations, nothing is off-limits in Terrifier 2.
Look, there's no getting away from it, Terrifier 2 is absolutely soaked in blood, gore and various body parts. The special effects team went all out to make every death as gruesome and realistic as possible. You'll see more blood and guts in this movie than you probably have in your entire life.
So, to answer the question on everyone's mind: Is Terrifier 2 as gory as they say? The answer is a resounding yes. If you're a fan of extreme horror and don't mind a little (or a lot) of blood and guts, then this movie is definitely worth checking out. But if you're squeamish or easily disturbed, you might want to give this one a miss.
Terrifier 2: Does the Sequel Up the Horror Ante?.
When it comes to comparing Terrifier and Terrifier 2, the question on everyone's mind is whether the sequel is scarier than the original. The answer, unfortunately, isn't a clear-cut yes or no. Terrifier 2 is undoubtedly bigger and bolder than its predecessor, with more blood and gore that fans of the franchise have come to expect. The movie builds on Art's story and provides more insight into his twisted mind, which is a plus for those who were left wanting more after watching the first film.
However, while Terrifier 2 excels in adding to the gore factor, it falls short in capturing the shock value that made the original so terrifying. Fans of the first movie already know what to expect from Art, and the sequel fails to bring the same level of unpredictability and fear that made the original so memorable.
That being said, Terrifier 2 is still a horror movie worth watching, especially for fans of the genre. The movie has its fair share of suspenseful moments and intense scenes, but those looking for the same level of terror as the first film may be left feeling slightly disappointed. In conclusion, while Terrifier 2 is a solid addition to the franchise, it may not be as scary as the original for some viewers.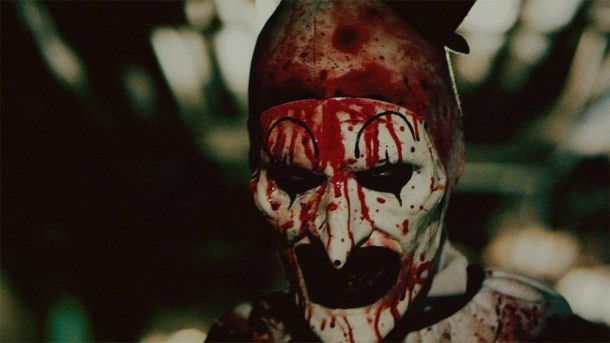 Is Terrifier 2 packed with sudden scares?
If you are a horror movie lover, then jumpscares are probably one of your favourite things in a horror film. Terrifier 2 has several jumpscares that will make you jump out of your seat. The movie is not for the faint-hearted as it features intense and frightening scenes that may leave you disturbed. With chase sequences and moments of suspense, Terrifier 2 keeps you on the edge of your seat throughout the movie.
Although the movie has some terrifying jumpscares, it is also important to note that suicide is briefly mentioned in some points. If you are sensitive to such themes, it may be best to avoid this movie.
The film is very brutal and features tons of blood and gore, making it unsuitable for young children. However, for older teens, it can be a thrilling experience. With its disturbing and intense scenes, Terrifier 2 is sure to be a hit among horror movie enthusiasts.
Terrifier 2: Suitable for a 13-Year-Old Audience?
When it comes to the horror genre, it's important to consider the age appropriateness of the content. The Motion Picture Association of America (MPAA) has established a rating system that categorizes movies based on their content, with R-rated films being restricted to viewers under 17 years of age without the presence of a parent or adult guardian.
Terrifier 2, the highly anticipated sequel to the 2016 film Terrifier, has been rated as R for strong bloody violence, gore, and language. This means that children under 17 may not attend the movie without an accompanying adult.
Parents should also consider their child's sensitivity to horror content when deciding whether or not to allow them to watch Terrifier 2. The movie features intense and graphic violence, including scenes of mutilation and torture, that may be too disturbing for younger viewers.
It's important to note that the rating system is a guideline and not a guarantee of a movie's content. Ultimately, it's up to the parent or guardian to make an informed decision about whether or not their child is mature enough to handle the themes and imagery depicted in Terrifier 2.
More to discover
Terrifier 2 is a movie that will leave you squirming in your seat due to its extreme gore and disturbing killing scenes. However, it falls short in the scare factor, lacking jumpscares and typical horror movie elements. While it may not be for the faint of heart, it's important to note that some of the killing scenes were unnecessarily gruesome. As for the age appropriateness, it may not be suitable for 13 year olds. In summary, if you're a fan of gory horror movies, Terrifier 2 is worth a watch, but don't expect to be scared out of your wits.