Megan Thee Stallion recently graced the stage of 'Saturday Night Live' and delivered a performance that left many in awe. With her emotional rendition of her single "Anxiety," Megan left her fans mesmerized. Not only did she put on a powerful performance, but she also delivered a message that resonated with many. In this blog post, we'll take a look at what Megan did on stage, when she performed, and why she broke down in tears. Plus, we'll answer some frequently asked questions about Megan's performances, including how much it costs to book her. So, stay tuned!
Megan Thee Stallion's SNL Performance: A Recap.
Megan Thee Stallion's performance on 'Saturday Night Live' was one to remember. The rapper delivered an emotional and powerful set, starting with her hit single "Anxiety." The song's lyrics, which touch on mental health issues and the struggles of dealing with anxiety, were delivered with raw emotion, showcasing Megan's ability to connect with her audience on a deeper level.
The performance was made even more poignant by Megan's delivery, which was filled with passion and vulnerability. The rapper's ability to capture the audience's attention was a testament to her skills as a performer, and her willingness to share her own struggles with mental health was both brave and inspiring.
Megan's message during her set was clear – it's okay to struggle with mental health issues, and it's important to seek support and help when needed. Her performance was a reminder that even those in the public eye can face challenges and that it's essential to prioritize mental health and wellness.
Overall, Megan Thee Stallion's performance on 'Saturday Night Live' was a powerful testament to her talent as an artist and her commitment to using her platform to raise awareness about important issues. Her performance of "Anxiety" was a touching reminder that vulnerability and authenticity can make for some of the most powerful and impactful performances.
🍿 Must Read Did the Whiffenpoofs appear on The West Wing?
Megan Thee Stallion's SNL Debut: A Night to Remember
Megan Thee Stallion's return to Saturday Night Live was nothing short of electric as she pulled double duty as both the host and musical guest on the third episode of SNL's 48th season. The episode aired on October 15, 2022, and fans were excited to see what the talented artist had in store for them.
For her first set, Megan Thee Stallion delivered a powerful performance of her hit song, "Anxiety". She captivated the audience with her energetic stage presence and impeccable delivery, leaving them wanting more. Her second set was a medley of "NDA" and "Plan B", which she executed flawlessly. The combination of these two songs showcased her versatility as an artist and further cemented her status as a superstar in the music industry.
Megan Thee Stallion's performance on SNL was not only impressive but also emotional. During her second set, she was seen crying on stage, which left fans wondering what had caused her to become emotional. However, the artist has not revealed the reason for her tears.
Overall, Megan Thee Stallion's performances on SNL were nothing short of spectacular. Her ability to command the stage and connect with her audience is a testament to her talent and hard work. It's no wonder that fans are eagerly awaiting her next live performance.
The Reason Behind Megan's Tearful Outburst on SNL.
Megan Thee Stallion's performance on SNL was indeed an emotional one. The rapper had everyone's attention as she performed her song "Anxiety." The song speaks about the struggles of anxiety and depression and how it can take a toll on one's mental health. As she began to rap the second verse of the song, Megan held back tears when she referenced the loss of her mother, Holly Thomas. It's no secret that Megan was very close to her mother and her passing has been a difficult time for the rapper.
Holly Thomas passed away in 2019 after a long and difficult battle with cancer. Megan has been open about her grief and the impact it has had on her life and music. It's clear that the loss of her mother still affects her deeply, and it was evident during her performance on SNL. Despite the emotional moment, Megan managed to get through the song and deliver a powerful performance. It's a testament to her strength and resilience as an artist.
It's important to note that Megan's vulnerability during her performance was a reminder that celebrities are human too. They experience loss and heartache just like everyone else. Megan's emotional moment on SNL was a testament to her authenticity as an artist and her willingness to open up about difficult experiences. It's also a reminder of the healing power of music and the role it can play in helping people cope with grief and other difficult emotions.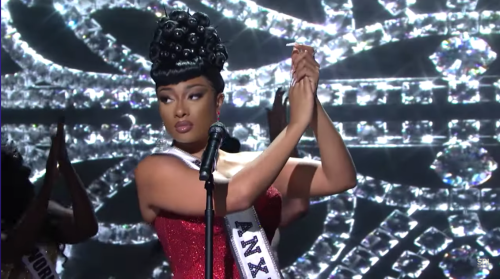 Exploring Megan Thee Stallion's On-Stage Performances.
Megan Thee Stallion's performance on SNL was an eventful one. The rapper was in the midst of performing when she noticed a phone being thrown onto the stage by a fan. The phone was still recording when it landed on the stage, and Megan noticed it immediately. Without skipping a beat, she proceeded to stand over the phone and twerk along to Beyoncé's "Savage (Remix)" verses. This moment was captured on camera and quickly went viral on social media. Megan's cool and playful reaction to the situation further cemented her reputation as a performer who can handle anything that comes her way. It also showcased her ability to engage with her fans and make the best out of any situation.
>> Related – Is Sat Night Live new tonight?
The Cost of Booking a Megan the Stallion Performance.
Megan Thee Stallion is undoubtedly one of the biggest names in the music industry right now, and her popularity has skyrocketed over the past year. It's no surprise that many people are wondering how much it would cost to book her for a performance. Well, the estimated speaking fee range to book Megan Thee Stallion is $200,000 and above. This is a significant amount, but it's important to note that this is just an estimate, and the actual cost may vary depending on the type of event and other factors.
Megan Thee Stallion is based in Houston, TX, USA, and is available for (private) corporate events, personal appearances, keynote speeches, or other performances. Her team can be contacted for further information on booking her for an event.
It's worth noting that while Megan Thee Stallion's fee may seem high, it's not uncommon for top-tier artists to charge this amount or even more for a performance. With her immense popularity and chart-topping hits, it's no surprise that she commands such a high fee. So, if you're looking to book Megan Thee Stallion for an event, be prepared to shell out a significant amount of money.
The Actress Who Portrayed Megan in Saturday Night Live?
Allison Williams, who is best known for her role in the hit movie "Get Out" and for starring in the HBO series "Girls," played Megan Thee Stallion on "Saturday Night Live." Williams made a cameo appearance in a spoof trailer for the sequel to "M3GAN," a doll that has become a gay icon. The trailer, titled "M3GAN 2.0," was aired during NBC's Jan. 21 broadcast of SNL. Williams' appearance as Megan Thee Stallion was well-received by audiences, and many praised her for her comedic timing and ability to mimic the rapper's style. It was a hilarious moment that showcased Williams' range as an actor and her willingness to take on new challenges. Overall, her appearance on SNL was a memorable one that provided a lot of laughter and entertainment for viewers.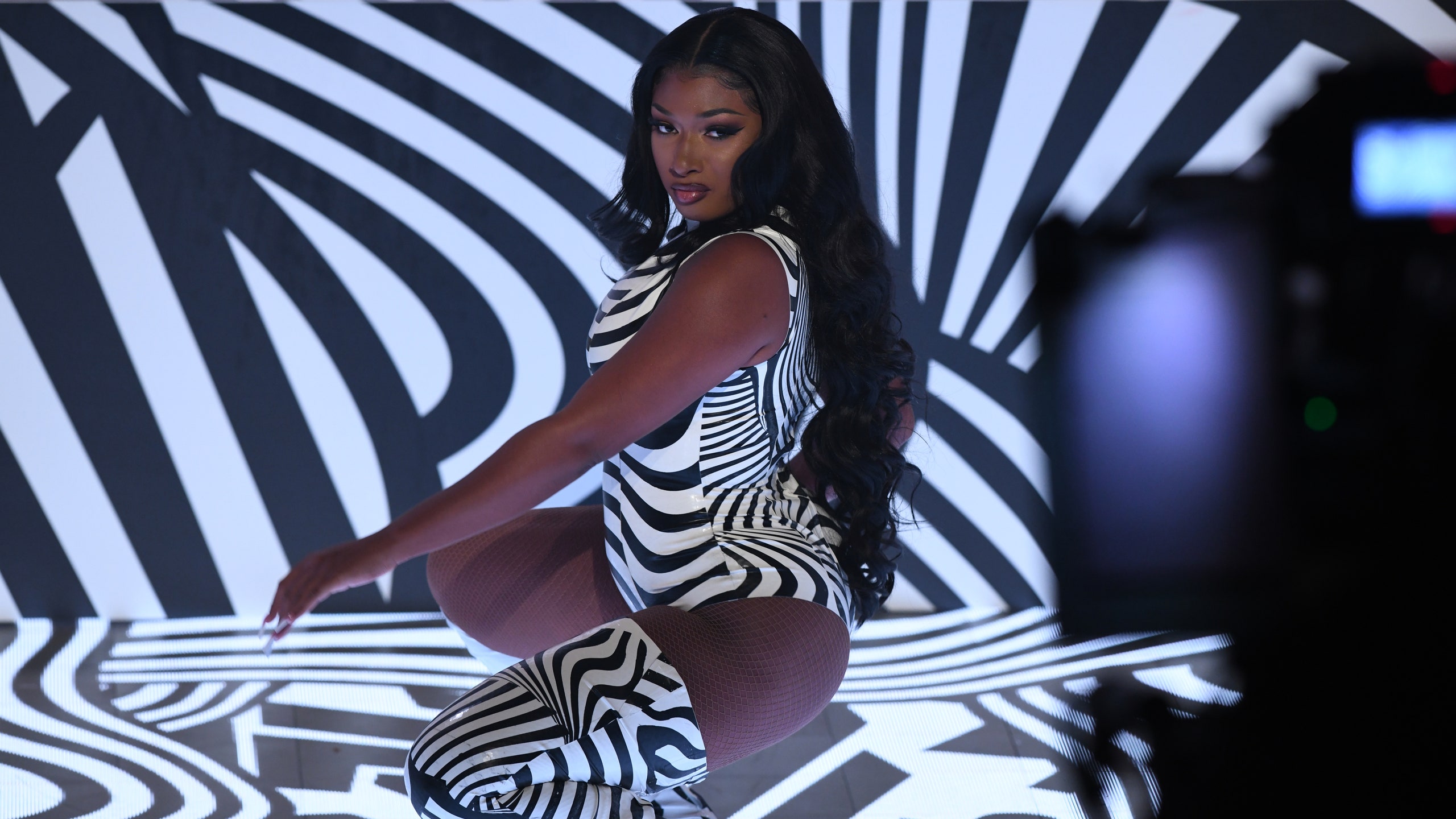 Recapping Megan Thee Stallion's SNL Performances: The Two Songs She Sang
Megan Thee Stallion's performance on SNL was one of the most talked-about events of the night. The rapper took to the stage to perform three songs from her latest album, Traumazine, which was released in August this year. The songs she performed were "Anxiety," "NDA," and "Plan B."
During her performance of "Anxiety," Megan was accompanied by background dancers, and the set was designed to resemble a beauty pageant. The performance was a spectacle to watch, and Megan's energetic performance had the audience captivated.
For her medley of "NDA" and "Plan B," Megan was backed by a full rock band, which added a new dimension to her performance. The rapper's versatility was on full display as she effortlessly transitioned from one song to the other with ease. Her performance was a testament to her talent and the hard work she has put into her craft.
Overall, Megan Thee Stallion's SNL performance was one of the highlights of the night. Her ability to captivate the audience and deliver a flawless performance is a testament to her talent as an artist. It is no wonder that she is one of the most in-demand performers in the industry, and her SNL performance is proof of that.
Unveiling the Musical Guest Debut on SNL
Saturday Night Live, also known as SNL, is a popular American television show that premiered on October 11, 1975. The show has become a cultural icon, known for its comedic sketches, political satire, and musical performances. The first episode of SNL featured two musical guests, Billy Preston and Janis Ian, who performed their hit songs "Nothing from Nothing" and "At Seventeen" respectively. However, it was the second episode which aired on October 18, that was almost exclusively dedicated to musical performances. Hosted by Paul Simon, the episode showcased a variety of musical acts, including Art Garfunkel, Randy Newman, and Phoebe Snow. This tradition of featuring musical guests has continued throughout the show's history, and many famous artists have graced the SNL stage, including Megan Thee Stallion who performed on October 3, 2020.
More to discover
Megan Thee Stallion's recent performance on 'Saturday Night Live' left a lasting impact on her fans. She showcased her talents by singing her hit single "Anxiety" and also delivered a powerful message through her performance. Although she shed tears during her set, her emotional performance only added to the authenticity of her artistry. While we may not know the exact cost of booking Megan for a performance, her SNL performance proved that she is a force to be reckoned with in the music industry. Lastly, it's worth noting that Megan is not the first artist to grace the SNL stage, but she certainly left a lasting impression with her incredible talent and emotional delivery.