Colonel Tom Parker, the legendary manager of Elvis Presley, was known for his shrewd business sense and his ability to turn Presley into a superstar. But what happened to the Colonel after the King of Rock 'n' Roll passed away? Some have accused Parker of taking advantage of Presley, taking a whopping 50% of Elvis' earnings. After Presley's death, Parker continued to manage his estate, but his influence began to wane. Did he attend Elvis' funeral? And what was Parker's net worth when he died? Find out more about the fascinating life of Colonel Tom Parker and the legacy he left behind.
The Post-Elvis Era: What Happened to Colonel Tom Parker?
After Elvis's death in 1977, Colonel Tom Parker continued to manage the Presley estate until the end of his life. While his influence waned in the later years, he remained dedicated to the task of managing the legacy of the King of Rock and Roll. Despite the controversies surrounding his management style and the significant amount of money he took from Elvis, Parker remained an integral figure in the Presley estate.
In the years following Elvis's death, Parker continued to negotiate record deals, manage the licensing of Elvis's image and likeness, and oversee the marketing of merchandise related to the iconic performer. He also played a role in the production of posthumous albums and collections of Elvis's music, ensuring that the King's legacy would continue to live on.
Despite his dedication to the Presley estate, Parker's reputation suffered in later years due to his management style and the amount of money he took from Elvis. While the exact amount is unknown, it is estimated that Parker took as much as 50% of Elvis's earnings, a fact that has been widely criticized.
Regardless of these controversies, Colonel Tom Parker remained dedicated to his role as Elvis's manager and continued to oversee the Presley estate until his death in 1997. His legacy, both good and bad, remains an important part of the story of one of the most iconic performers in music history.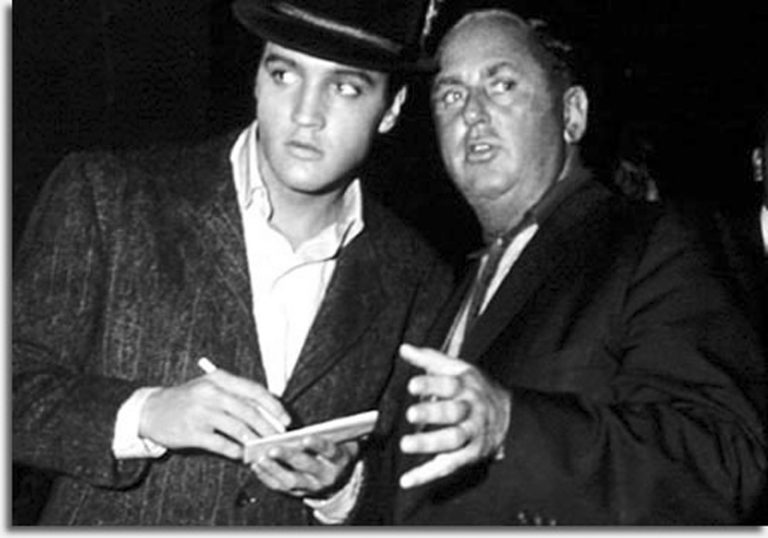 🍿 Must Read What did Jerry Schilling think of Elvis movie?
The Extent of Colonel Parker's Financial Exploitation of Elvis Presley.
Colonel Tom Parker, Elvis Presley's manager, was known to be a shrewd businessman who was not afraid to take advantage of the King's popularity. Parker took a significant portion of Elvis' earnings throughout his career, reportedly up to 50% of his earnings. However, Parker's greed did not stop there. In 1973, Parker arranged a $5.4-million deal with RCA records, which made RCA the sole owner of all of Elvis' music before that year. This deal meant that the Presley estate would no longer receive royalties for more than 700 songs, and the colonel would pocket $2.6 million.
This move by Parker was a significant blow to the Presley estate's financial stability, as the royalties from Elvis' music were a significant source of income for them. The deal also highlights the extent of Parker's greed and his willingness to put his interests above those of his client. It is important to note that Elvis was not aware of the deal and only found out about it after Parker's death.
In addition to the music deal, Parker also negotiated a series of movie contracts for Elvis that were less than favorable to the King financially. These contracts often included low salaries and a significant share of the profits going to Parker. Despite this, Elvis remained loyal to Parker throughout his career, and it was only after his death that the true extent of Parker's exploitation was revealed.
Tom Parker's Career Path After Elvis' Death
After the death of Elvis, Colonel Tom Parker managed the affairs of Elvis' estate. He continued to earn money from the estate through various means. However, his involvement with the Presley family ended when a legal battle ensued between him and the Elvis Presley Estate. The case resulted in Parker receiving $2 million in exchange for all Elvis audio recordings or visual images that he owned. This also led to the termination of his involvement in any Presley-related business dealings.
It is interesting to note that Colonel Parker's management of Elvis' career was not without controversy. He was known for taking a significant portion of Elvis' earnings, reportedly up to 50%. This was a source of tension between the two men and also led to criticism from the media and fans alike.
Despite his controversial management style, Colonel Parker remained a key figure in the entertainment industry. He continued to represent other artists and work on various projects until his death in 1997. At the time of his death, Colonel Tom Parker was worth an estimated $100 million.
As for the ownership of Graceland, it remains in the hands of the Presley family. Priscilla Presley, Elvis' former wife, inherited the estate and has been instrumental in its preservation and development into a tourist attraction.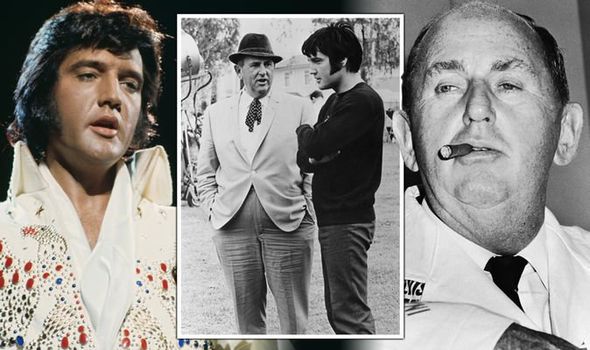 Unveiling the Mystery: Was Colonel Parker Present at Elvis Presley's Funeral?
Colonel Tom Parker, Elvis Presley's long-time manager, did attend the King of Rock and Roll's funeral. Despite their well-known professional relationship and friendship, there were rumors circulating at the time that Parker was not welcome at the service. However, these rumors were later dispelled by several eyewitness accounts of Parker's presence at the funeral. It is worth noting that Parker was noticeably distraught and emotional during the service, which suggests that he was genuinely mourning the loss of his friend and client. In fact, it is said that Parker was so upset that he had to be helped out of the funeral by other mourners. Although Parker had a complicated and sometimes controversial relationship with Elvis, it is clear that he cared deeply for him and was deeply affected by his passing.
>> Related – Did Austin Butler do his own singing in Elvis?
The Net Worth of Colonel Tom Parker at the Time of His Demise
Colonel Tom Parker, the legendary manager of Elvis Presley, was known to be an astute businessman. He negotiated lucrative deals for Elvis, earning over $100 million during his lifetime. However, despite his success, Colonel Parker's personal finances were not as impressive as his professional accomplishments. When he died, he was reportedly worth less than $1 million, which was surprising given the amount of money he had handled over the years.
One contributing factor to Colonel Parker's financial troubles was his gambling addiction. He was known to be a frequent visitor to Las Vegas and had accumulated as much as $30 million in gambling debts at various points in his life. This addiction, coupled with his lavish spending habits, had a significant impact on his overall net worth.
Despite his financial struggles, Colonel Tom Parker's legacy as a music industry icon and Elvis Presley's manager remains intact. His contributions to the music industry and his impact on Elvis's career cannot be understated. However, his financial mismanagement serves as a cautionary tale for those in the industry, highlighting the importance of smart financial planning and responsible spending practices.
The Future of Graceland Ownership: Who Will Claim Elvis Presley's Estate?
Graceland, the iconic mansion that was once home to Elvis Presley, has been a popular tourist attraction since it opened to the public in 1982. With the passing of Elvis' daughter, Lisa Marie Presley, the question on many fans' minds is: who will own Graceland now?
According to a representative of Graceland, the property will be passed on to Lisa Marie's three daughters, Riley, Harper, and Finley. This news is sure to bring relief to many fans who were worried about the future of the estate.
It is no secret that Graceland is a valuable property, worth millions of dollars. However, the Presley family has made it clear that they intend to keep the estate in the family and maintain it as a tribute to Elvis.
It is heartening to know that the Presley family has taken steps to ensure that Graceland will remain a part of Elvis' legacy for generations to come. Fans of the King of Rock and Roll can rest assured that the property will be in good hands and will continue to be a popular destination for years to come.

The Reason Behind the Colonel's 50% Share in Elvis' Earnings.
When it comes to the financial relationship between Elvis Presley and his manager, Colonel Tom Parker, the numbers are staggering. It is no secret that the Colonel took a significant portion of Elvis's earnings during their long partnership. In fact, it is reported that Parker took more than half of Presley's income in exchange for his managerial services. This included negotiating deals for merchandise, TV appearances, and acting roles.
Despite the outrage that some fans and critics expressed over the years, the Colonel remained a central figure in Elvis's career, and he was instrumental in many of the most important decisions Presley made. For example, it was Parker who advised Presley to accept military service in 1958 and helped him navigate the complexities of the entertainment industry.
The Colonel also played a key role in Presley's personal life. When Elvis decided to marry Priscilla Beaulieu in 1967, it was Parker who helped him make the decision and who took on the role of trusted adviser throughout the couple's marriage.
Despite the fact that many people felt that Parker took advantage of Presley's generosity and talent, it is clear that their relationship was much more complex than a simple financial arrangement. The Colonel was a central figure in Presley's life and career, and his influence is still felt today.
The Destiny of Graceland: Will it be Inherited by Priscilla?
After Lisa Marie Presley's death in 2023, the question of who will inherit Graceland and her trust has been answered. A representative for Graceland confirmed to People that Lisa Marie's estate, including Graceland, was inherited by her daughters – Riley Keough and Harper and Finley Lockwood. However, there is no concrete information on whether Priscilla Presley, Elvis' ex-wife and Lisa Marie's mother, will inherit any part of the estate.
Graceland is an iconic property, and its ownership has been a topic of discussion for a long time. When Elvis died, Priscilla inherited his estate, including Graceland. However, she sold 85% of the estate to Elvis Presley Enterprises, which is now owned by Lisa Marie's trust. It remains to be seen if Priscilla will have any role in the future ownership of Graceland.
Lisa Marie Presley was known to be a devoted mother, and it's not surprising that she would want her daughters to inherit her estate. Riley Keough, the oldest daughter, has followed in her grandfather's footsteps and pursued a career in entertainment. Harper and Finley Lockwood, her younger sisters, are still minors and will have to wait until they come of age to take control of their inheritance.
In conclusion, Priscilla Presley's inheritance of Graceland after Lisa Marie's death is still unclear. However, Lisa Marie's daughters have now taken ownership of the estate, including the iconic property Graceland. It's a fitting tribute to Elvis Presley's legacy and a testament to Lisa Marie's devotion to her family.
More to discover
Colonel Tom Parker's legacy as Elvis Presley's manager is a complex one. While he was instrumental in launching Presley's career and securing lucrative deals, his management style was also characterized by greed and exploitation. It is estimated that Parker took as much as 50% of Presley's earnings, which contributed to the financial difficulties that Presley faced in his later years. After Presley's death, Parker continued to manage his estate, but his influence waned. Today, Graceland is owned by Presley's daughter Lisa Marie, who inherited the estate after her mother, Priscilla, renounced her claim. Despite Parker's controversial legacy, there is no denying his impact on the music industry and his role in shaping the career of one of the most iconic performers of all time.